Failed DIY Grout Recoloring Project in Sterling, VA, Requires Us to Come to the Rescue
June 20, 2015
While some home improvement projects are easy to do by yourself, others require more in-depth knowledge of the industry, years of experience, and a steady hand in order to achieve the desired results. When a simple conversation with a sales guy at the local home improvement store doesn't provide you with the sufficient amount of guidance for getting the job done right, followed by watching a few instructional videos on YouTube, it's often best to call in a professional.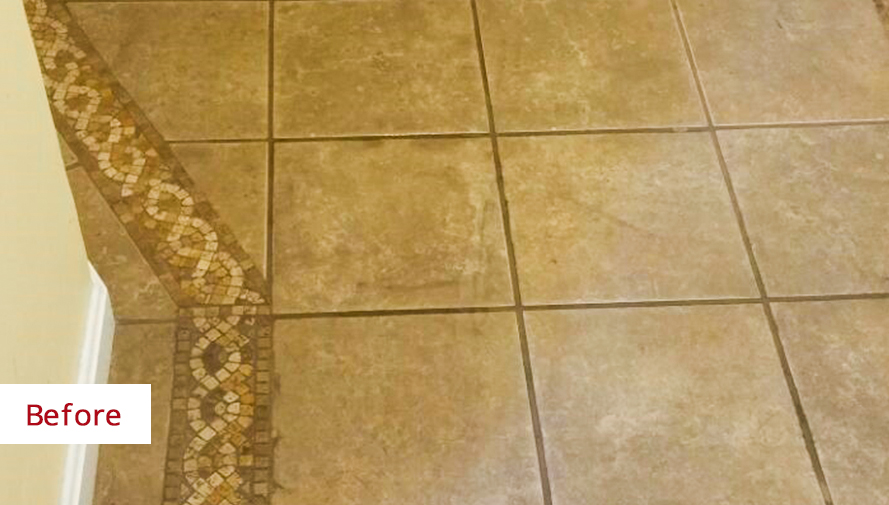 Recently, we were contacted by a homeowner in Sterling, VA, who figured this out the hard way. His grout joints, as shown in the 'Before' picture to the left, never looked quite right to him.
When the homeowner's tile floor was originally installed, he decided on a dark color for the grout joints. He began wishing he had chosen a lighter shade for them soon afterwards since their dark color failed to make the beauty of the floor tiles stand out to its full potential. For many years, he tried to modify the grout's appearance accordingly, but nothing seemed to work.
Before throwing in the towel on his DIY grout project, he tried recoloring the grout with a ColorSeal product he picked up on his last visit to Home Depot. All it took was one grout line before his patience ran out and he decided getting this done correctly would require hiring a
Sterling grout recoloring
professional to help him out. Lucky for him, he had heard good things about our company and services before, so he decided to give us a call.
We parked outside the customer's home a few days later and were warmly welcomed inside. The homeowner told us he was glad to see us since our arrival meant this project, which he'd been working on for years, could finally come to an end. He then walked us over to the floor so we could examine it ourselves. Once we finished our inspection, we told him this project would be a piece of cake for us since we've successfully completed way more projects like this over the past few years than we could count, although we could see why it is not easy to do properly as a beginner. When it comes to anything where attention to detail is required, the more experience one has the better.
Now it was time to get to work. The product we'd be using was the same one the homeowner had been using when trying to do the project himself. When recoloring grout, ColorSeal is the best product on the market because, in addition to being resistant to stains, water, mold, and mildew, it is also odorless and completely safe for the entire family, including pets.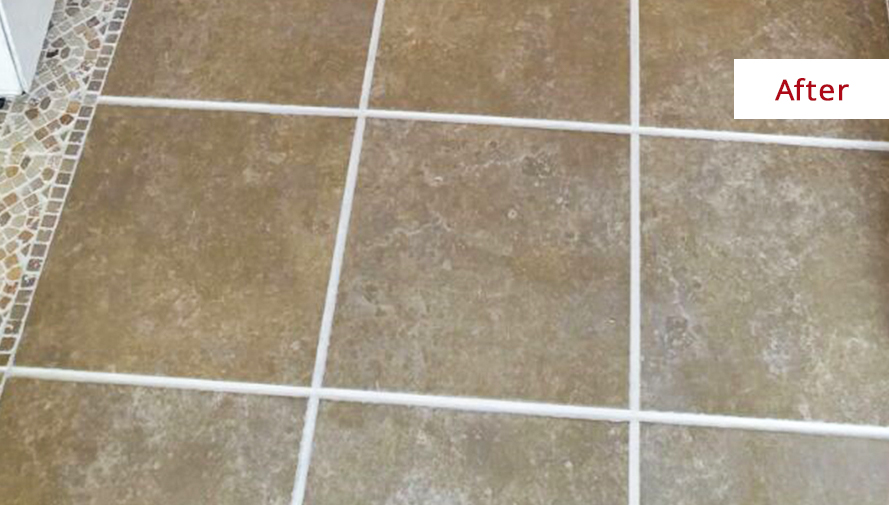 It didn't take long before a fantastic transformation could already be seen. When we were finished, we called the customer back in to take a look. He couldn't believe his eyes! His floor, as shown in the 'After' picture to the right, finally looked the way he'd been wanting it to ever since the tile and grout was first installed many years back. He told us he really appreciated our help and that he wished he had given us a call much sooner. On our way out the door, he promised to recommend our services to all his friends and neighbors.
Does this homeowner's DIY project sound like something you can relate to? Stop giving yourself headaches trying to complete a complicated hard surface restoration project all by yourself. Instead, have us get it done for you by calling
(703) 594-2260
and setting up an appointment with us today.