Welcome to the travertine category for the Sir Grout Washington DC Metro Blog. Here you'll find blog posts related to travertine surfaces that we've restored. See the amazing transformations with the included before and after pictures. Feel free to share and leave your comments.
Published June 07, 2016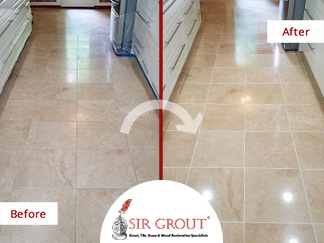 Stone Polishing Revamps This Elegant Travertine Floor in Gaithersburg, Maryland and Makes It Shine Again
When this Maryland homeowner was looking for her dream home, she knew that she wanted a spacious kitchen with travertine floors. Travertine is one of the stones that homeowners love the most because of its ability to complement almost any area of a home.
READ MORE
Published August 21, 2015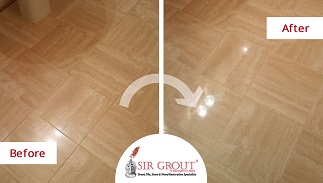 Stone Honing Mitigates Years of Etching Damage in This Arlington Home
Ron Jackson is a retired contractor who wanted to make the appearance of his 15-year old travertine floor look brand new as the day he first installed it. However, no matter how much Ron tried to polish his floors, he never achieved the results he expected.
READ MORE