Stone Honing Mitigates Years of Etching Damage in This Arlington Home
August 21, 2015
Ron Jackson is a retired contractor who lives in Arlington, VA. He wanted to make his 15-year old travertine floor look brand new as the day he first installed it. However, no matter how much Ron tried to polish his floors, he never achieved the results he expected. He had no idea what was wrong with the floor, and was seriously concerned. Travertine is supposed to be a durable, low maintenance stone! He had never seen travertine in such a poor condition. He asked his contacts in the construction industry if they knew a good
Arlington stone honing
service, and one of his old friends referred him to Sir Grout. The experts at Sir Grout scheduled a day to ColorSeal, polish, and remove the etch marks caused by the cleaners used on his floors. He was surprised and ecstatic to see the results of the past work on travertine demonstrated by the experts at Sir Grout.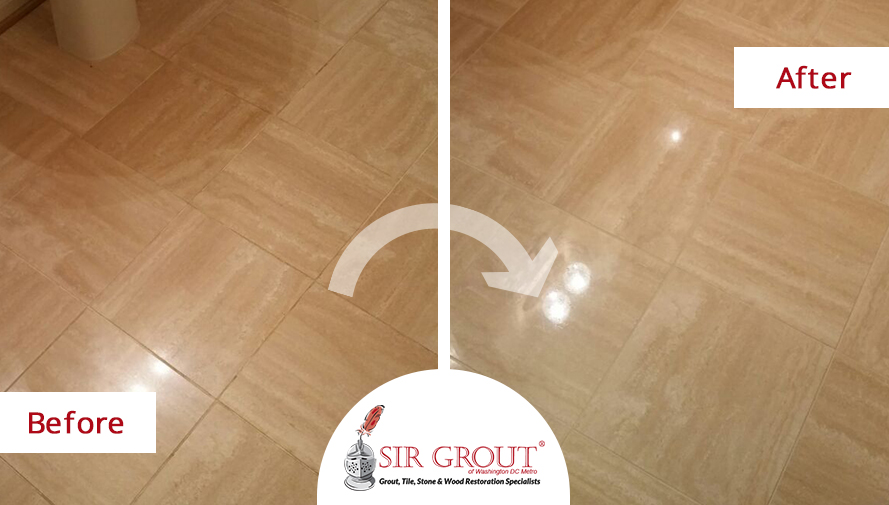 Prior to calling Sir Grout, Ron attempted to polish his travertine floors himself. Despite his efforts, Ron Jackson was unable to get rid of the etch marks that the cleaners had left on his floor. First of all, he was right in choosing travertine as a type of stone that is durable, but if durability was his only concern, granite might have been a better choice, as it is much denser. The composition and physical characteristics of travertine are also similar to that of limestone and marble, so all three types of stones share similar maintenance and cleaning procedures. When dealing with travertine floors, it is important to understand the difference between staining and etching, because the two types of damage that can occur to your floors can be very confusing.
Stains occur when a substance absorbs into certain areas or spots in the stone. Stone sealers can be applied to help protect travertine floors against stains, but sealers are not used to prevent etching. Etching is physical or corrosive damage that occurs when travertine floors get into contact with cleaners or acidic foods and drinks.
Ron ultimately wanted to see his 15-year old travertine floor look as new as the first time he installed it – so the big challenge was to repair the etching damage. On the day of the job, the stone honing experts used a combination of abrasives and the right machinery to properly hone the travertine, removing the top layer so that all the etching was gone. The job did not end there: to achieve a brand new look, the experts took the full appearance into consideration: they fixed the inconsistencies in the grout lines, and polished it to a shine.
Ron Jackson was thrilled to see the exact results he had been promised. "It looks as good as the day it was first installed!" he said, astonished. Since the use of improper cleaning processes and chemicals are major reasons why stone restoration would be needed, the technicians recommended a few products for Ron to consider when cleaning his stone.
To prevent etching in stone, it's important to only use quality products designated safe for natural stone like travertine. For example, the Stonecare PRO Signature line includes polishes, soap film and mildew removers, and cleaners. When the job was done, Ron was surprised and pleased to see the quality of the work demonstrated by the experts at Sir Grout and will recommend the company for future projects in the neighborhood. The consistent grout lines, clarity, and shine brought the life back to his flooring and left a smile on his face.
Avoid etching and keep it looking brand new. Here are some useful tips on ways to take care of your travertine:
Clean spills immediately. Travertine floors can stain easily because the stone is porous. You can clean spills on travertine floors quickly by using a soapless, pH-neutral stone cleaner and hot water.
Clean travertine with a wet mop on a weekly basis using a pH-neutral stone cleaning agent and hot water. Keep your stone clean regularly by using a clean, non-treated dust mop.
Do not use cleaning products that contain alkalis and ammonia to clean travertine.
Do not use cleaners with acid and other chemicals, because they can etch or damage your floors. They can also cause the seal on the stone to degrade and become vulnerable to staining.
Since sand, dirt, and other elements carried by our shoes can etch and damage travertine tiles, place doormats and area rugs in high-traffic areas such as entryways.
If your travertine is not sealed, the surface is getting damaged. If you are not sure whether your travertine tiles need to be sealed, you can perform a simple test to find out.
Apply a small amount of water to them. If the tiles appear to darken and absorb the water, then it's time to have them sealed.
If your travertine floors are worn and scratched, and if "do-it-yourself" cleaning efforts are not enough, Sir Grout provides a high quality, state-of-the-art stone, grout, and tile sealing service. Sir Grout can help restore and polish your travertine floors to make them appear brand new. Fill out the form below to contact Sir Grout of Washington D.C. for a free evaluation today!
If you found this article helpful then let us know in the comments section below. Likewise, feel free to share it using the share options below. Want us to cover another topic of your interest pertaining to Hard Surface Restoration? If so, then like us and follow us on social media, and post to any of our social media profiles the topic you'd like us to discuss:
Facebook Sir Grout Washington DC Metro
,
Instagram @sirgrout
, and
Twitter @SirGrout
.