These Bathrooms in Alexandria Get Tender Loving Care From Our Hard Surface Restoration Services
January 12, 2023
Many homeowners prioritize keeping their floors in excellent condition. However, tiled surfaces can deteriorate rapidly and require more than just a store-bought cleaner. A client was having trouble keeping some surfaces in his home clean. His bathroom floors were gunky after years of constant use. The owner cleaned on a regular basis, but nothing he tried worked. After this, he decided to seek professional help.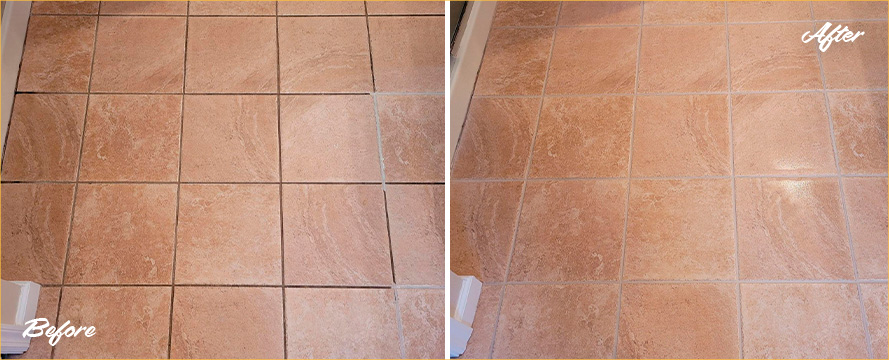 Fortunately, one of our past clients recommended our services, so he went online and searched for our
hard surface restoration services in Alexandria, VA
. The owner browsed through our
picture gallery
and read our helpful maintenance recommendations on our website. He contacted us and requested a free in-home examination, convinced that we were the best option.
We arrived at his place a couple of days later to perform the examination. The owner anticipated our visit, greeted us, and we then began the evaluation. The bathroom floors were full of dirty grout and the tiles were in bad shape. The backsplash needed to be restored as well. Furthermore, the surfaces were not sealed. We explained that they had been exposed and that they can easily absorb all kinds of external agents, causing further deterioration. A special sealant had to be applied to prevent future damage.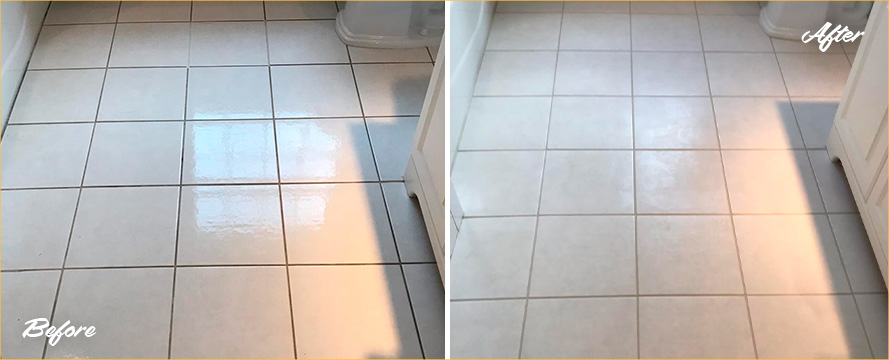 We discussed a solution with the homeowner once we had reached a satisfactory conclusion. We determined that traditional methods would be ineffective and that the surface required professional attention, so we offered our hard surface restoration services. We would repair the damage, improve the condition of the surfaces, and restore the floors and backsplash using our superior process and top-of-the-line equipment. The owner hired us right away, impressed by the excellent evaluation he had witnessed.
We returned soon with everything we required to restore the bathroom surfaces. We began working on the bathroom floors. First, we used bio-safe cleaners to clean the surfaces. Our product is made with high-quality ingredients and does not leave a residue. We worked meticulously on the surfaces, giving the grout lines a wonderful new look. The sealing procedure came next.
ColorSeal was used for this step. Our sealant offers exceptional protection and long-term results. It repels dirt, grime, and other external agents, slowing deterioration and making cleaning routines simple and quick. ColorSeal significantly improves the surface, giving the grout a uniform color. Our customers can select from a variety of colors, ensuring that they will find one that suits their preferences.
We completed the restoration and it was time to show our client the results of our hard work. The owner was surprised when he looked at the appearance of the bathrooms' surfaces, and he was delighted since everything looked much better than he had imagined. He thanked us and said he would recommend our services in his neighborhood.
Bathroom surfaces can degrade fast due to significant wear and tear. These surfaces require adequate care to stay in good condition. As a result, our team always takes the time to provide our clients with relevant tips for best maintenance methods. Our crew recommended starting a weekly cleaning routine with pH-neutral solutions like
Sir Grout's Natural Hard Surface Cleaner
. Our product is without a doubt the greatest alternative on the market, providing excellent results and several benefits. It is also non-toxic and suitable for everyone, even pets.
Soap-based cleaners and acidic chemicals are not recommended. These chemicals include strong substances that might be harmful to the surface. They also produce a sticky foam that seeps into the grout, causing deterioration, stains, discoloration, and a variety of other concerns. Always use clean mops while cleaning the area, and allow the floor to dry before entering the room again. Abrasive materials should never be used since they might damage the surface.
Our pleased clients can confirm that Sir Grout Washington DC Metro's hard surface repair services are your best option to restore your bathroom surfaces. Call us at
(703) 594-2260
or fill out the "Request a Quote" form on this page to schedule a free consultation today. If you want to keep up with our latest news and promotions, subscribe to our
newsletter
.