These Damaged Floors Received a Complete Overhaul Thanks to Our Grout Cleaning Experts in Rockville, MD
October 10, 2023
A couple from Rockville, MD was not pleased with the condition of their floors. The surfaces in the kitchen and the laundry room looked dirty and unappealing. They tried regular cleaning routines, but nothing seemed to work. The couple was still hopeful they could solve the problem, so they used some DIY cleaning routines they found online. Despite their best effort, they noticed no positive results.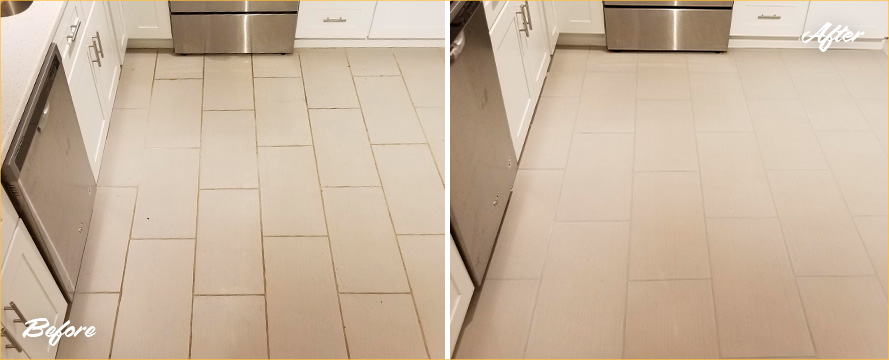 Frustrated by the negative outcome, the owners decided to hire professionals. Thankfully, one of their friends was a Sir Grout Washington DC Metro client. He highly praised our work and advised them to visit our website to contact us. They followed his suggestion and visited our site.
After browsing our
picture gallery
and reading the glowing reviews our satisfied customers leave us, they were convinced we were the right choice. They asked for a free in-home consultation by clicking on the "Schedule a Free Quote" button on this page. Thanks to our
Rockville Grout Cleaning
experts, their floors now look amazing.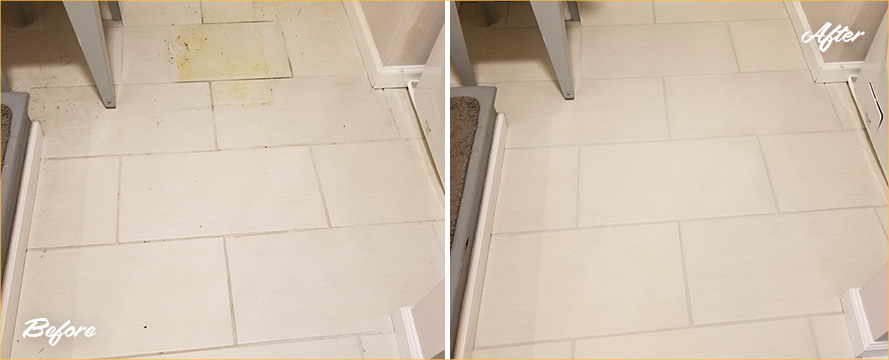 A few days later, we arrived to perform the in-home consultation. We immediately noticed the problems on the kitchen floor. The tiles looked dingy and the grout lines had accumulated dirt. As a result, the entire surface had an unsightly appearance. We also noticed the grout lines were unsealed. It was necessary to address this problem because common grout is porous and can absorb water, dirt, and grime. This can lead to more severe damages. We continued the inspection in the laundry room and determined the surface suffered the same issues. After finishing the evaluation, we concluded that regular cleaning methods wouldn't provide the solution the owners were looking for. To restore the floors, it was necessary to use Sir Grout's professional process and high-end equipment. We proposed a grout cleaning service to improve the surfaces with a revamped appearance. The owners were happy with our offer and decided to hire us.
We returned to our clients' house with everything we needed to restore the surfaces. We began working on the kitchen floor. For the first step of the process, we cleaned the surface using our exclusive cleaner and a high-speed scrubber. Our product won't cause any damage because it doesn't contain harsh components. It also offers many other benefits and doesn't leave a residue. Once we finished cleaning, we proceeded with the grout repairs. We used professional diamond saws and worked on the entire floor until we fixed all the issues. The following step was the sealing process.
To ensure long-lasting results, we used ColorSeal. Our flagship sealant is made with high-quality ingredients and provides unmatched protection. It wards off dirt, grime, and other external agents, reducing deterioration. It also offers UV defense, for areas subjected to solar damage. ColorSeal improves the surface by giving the grout a vibrant color and a brand-new appearance. It comes in a wide range of colors, allowing homeowners to match the tiles with the grout. After fully restoring the kitchen floor, we continued the job in the laundry room. We followed the same procedure and addressed all the damages. When we finished, the surfaces looked gorgeous.
Our clients were very impressed when they saw the restoration we had achieved. They loved the brand-new appearance of the floors. The couple thanked us and said our performance surpassed all their expectations. Before we left, they assured us they would recommend Sir Grout Washington DC Metro to their friends, family, and neighbors.
Floors receive heavy foot traffic. This constant wear and tear can lead to quick deterioration. To keep theses surface in top condition, it's necessary to follow Sir Grout's recommendations. To prevent the accumulation of dirt, we suggested setting up a weekly cleaning routine. For optimal results, use only pH-neutral products like
Sir Grout's Natural Hard Surface Cleaner
. Our product is soap-free and won't deteriorate the tiles or grout. It is also non-toxic and safe for everyone in the house, including pets. We don't recommend using soap-based cleaners or substances with acidic properties. These products contain agents that can harm the surface. Apply the cleaning solution using a clean mop and let the floor dry completely before entering the room again. Keep children and pets away from the wet surface. Avoid drying the floors using abrasive tools like steel wools because they leave scratches.
Restoring your damaged floors doesn't have to be a challenging task. It can be easy and fast with Sir Grout Washington DC Metro's assistance. Our certified professionals know exactly what to do to help you. With our unmatched grout cleaning process, our techs can give any surface a beautiful new look. As a leading company in the hard surface restoration industry, we have years of experience and reliable solutions at your disposal. Don't hesitate to contact us by calling
(703) 594-2260
or by clicking the "Schedule a Free Quote" button for a free in-home consultation. To keep up to date with our latest info and promotions, please subscribe to our
newsletter
.